McDonald, his six-piece band and the RSO put on a party for the symphonys 60th anniversary pops kickoff. Dozens in the crowd of 2,452 capacity was about 3,800 had risen to dance and clap along by the end of about 80 minutes. McDonalds own songs were at the fore. His bassist, Tommy Sims, took the James Ingram part on Yah Mo B There. The orchestras horns punched through Sweet Freedom. And by the time McDonald hit the last vocal notes of I Keep Forgetting, it was clear that his instrument was undamaged by time. The early crowd favorite was his cover of Marvin Gayes Heard It Through The Grapevine, part of McDonalds first hit album of Motown covers, from 2003. It got folks dancing and drew the biggest applause at least until he broke out the Doobie Brothers Minute By Minute. More Motown covers, including Aint No Mountain High Enough and Aint Nothing Like The Real Thing, gave backing vocalist Drea Rhenee Merritt a chance to show her substantial skill. Conductor David Stewart Wiley led the strings through lush versions of You Dont Know Me, from Ray Charles Modern Sounds in Country and Western Music, and the Gerry Goffin/Carole King cover, Hey Girl. McDonald repeatedly complimented Wiley, the symphony and concertmaster Akemi Takayama. Wiley was equally impressed with his guest performer. I wish all pops artists could be as fun, cool, laid-back, musical and versatile as Michael McDonald, Wiley told the crowd during the symphonys opening set. Wiley introduced another versatile player, mandolinist and clarinetist Jeff Midkiff, who moved to center stage to perform a couple of his compositions. Midkiffs A Visit From The Muse and the first movement of From The Blue Ridge gave the Roanoke Valley for the second consecutive night an intriguing lesson in the depth of music possible on mandolin. On Thursday night, Chris Thile had performed several Bach pieces at Jefferson Center.
Concert review: Pearl Jam hits Pittsburgh like a lightning bolt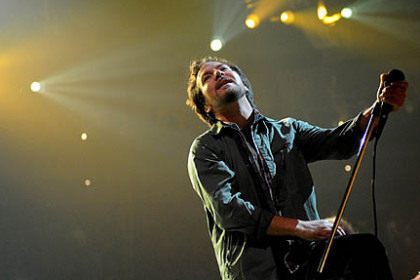 The Band of the Royal Regiment of Fusiliers performed at the concert at Victoria Hall in Bolton on Saturday evening. Fusilier Rigby's mother, stepfather and sisters all attended. The soldier, from Langley, Middleton, was stabbed to death in the street near Woolwich Barracks in London on 22 May. Organiser Ann-Marie Etherington said the concert was "moving and emotional". 'Poignant finale' About 600 people attended the event, at which the Manchester branch of the Scots Guards Association Pipes and Drums also performed. Ms Etherington, from the Rotary Club of Great Hardwood and Rishton said: "The Fusiliers designed the programme so there was something for everyone, with everything from James Bond theme music to music from shows. "It was very emotional in parts but there was some humour too. "The finale was extremely poignant. The final song was Here's to the Heroes and then Lee's two young sisters were presented with a large portrait of him." She said: "Lee's mother Lyn told me it had been difficult but she was very moved by it and grateful. She said she was glad she came." Lee Rigby was a drummer with the Band of the Royal Regiment of Fusiliers Ms Etherington added: "Victoria Hall has superb acoustics and, with the 50-strong Fusilier band and 12 pipers, it made the hairs on the back of your neck stand up." The 25-year-old soldier had been in the 2nd Battalion Royal Regiment of Fusiliers since 2006. He was walking to the Royal Artillery Barracks in Woolwich, south-east London, when he was struck by a car and then attacked. Michael Adebolajo, 28, and Michael Adebowale, 22, have been charged with his murder. They deny the charges.
Fusilier Lee Rigby: Concert held in Bolton in his memory
Matt Freed/Post-Gazette Eddie Vedder, left, leads Pearl Jam at Consol Energy Center Friday night. Click image to enlarge Tweet By Scott Mervis/Pittsburgh Post-Gazette The lights went down in Consol Energy Center at 8:21 — almost an hour after the ticket time — and with the live premiere of the pensive new song "Pendulum," the Lightning Bolt Tour was on. Having rehearsed on it all week, Pearl Jam was well acquainted with the Consol stage and everything to be played on it, and tonight, it was time to christen Pearl Jam's first full U.S. tour since 2010 and first concert in Pittsburgh since 2006. Set list Elderly Woman Behind the Counter in a Small Town Lightning Bolt Rockin' in the Free World Yellow Ledbetter "I was starting to get nervous about our first gig," Eddie Vedder said at one point, "and I happened to be talking to Bruce Springsteen, and he said, 'Aw [expletive], it's in Pittsburgh, it's going to be a smoking crowd." True to form, it was a high-energy, high-spirited, nearly 30-song Springsteen-style marathon from Eddie and the boys, who made it feel like they were FROM Pittsburgh. Pearl Jam had teased a few new songs in a pair of shows this summer — one at Wrigley Field, one in London, Ontario — but this was the live debut for many of the tunes from "Lightning Bolt." Although it doesn't come out until Tuesday, it was streamed on iTunes this week, so the Pearl Jam faithful were prepared. When he sang "Pendulum" in his rich baritone, drawing out that great line "Easy come, easy go/easy left me long ago," there was already a spark of recognition. The band is obviously proud of this one, and with good reason. When they powered through the title track and the breakneck single "Mind Your Manners," they already sounded like songs from a future "greatest hits" collection. They were paired with the furious "Animal" as an easy compare and contrast to older days. Of course, Pearl Jam is just as effective, or more so, in the mid-tempo zone, making songs like "Nothingman," "Elderly Woman Behind the Counter in Small Town" and "Faithfull" sing-along celebrations. Add to that "Sirens," a beauty from the new album about the fragility of life, with death right outside the door. "Unemployable" was delivered as "a fate I wish on everybody in Congress," Mr. Vedder said. Something about "Daughter" made him think of Franco Harris because he inserted a breathy chant of "Let's Go Franco" into the song, followed by a toast to the running back he said was the best when he was growing up.